Contact Information
Customer service hours, 9:00 AM to 6:00 PM, Monday through Friday, EST.
Contact: Toll Free: (646) 307-4845 (International calls 011-(646) 307-4845)
Email address: [email protected]
Shipping – In Stock Items
Unless otherwise specified, all orders ship via Ground - United Parcel Service (UPS). Orders placed before 11:00AM Eastern time on a business day ship the same day. Orders placed on weekends or holidays ship the next business day.
Shipment of goods may depend upon availability, quantity ordered and other factors that may affect final delivery date.
Shipping – Custom Orders
Orders placed for non-stocking items are not final at time of checkout. An Axis customer service representative will contact you within 24 hours of check-out to clarify order specifics. Following the order review process, all costs including estimates for freight and taxes will be quoted and approved before order is placed.
Production time and stated minimum quantity will apply for all custom orders.
Additional options in colors, imprinting, packaging, and customization for items available on this store.
Rush service for custom order is frequently available.
For immediate shipment of Axis E-commerce promotional items, please refer to our in-stock "Inventory Store."
When will by order arrive?
See the chart for approximate time-in-transit for your Ground Shipment Order.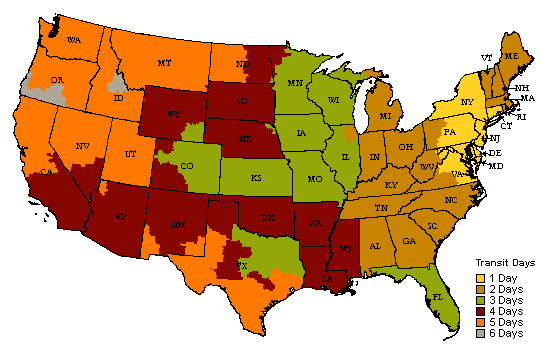 Orders
Order Payment
Order Cancellation
Stock merchandise orders do not ship until the next business day after your order is placed. Orders made from the Inventory Store can be cancelled at no charge up until the time of shipment. Contact Customer Service with ORDER CANCEL in the subject line.
For Custom orders, a cancellation fee may apply.
Returns and Replacement
In the unlikely chance that merchandise was damaged in shipment, please do not distribute the items until the carrier can inspect the shipment and a claim can be submitted. If items are missing or merchandise is damaged or defective, please contact us for instructions.
Login and Password Lost
Please go to the Account login page and click forgot my password we will send your password to the account which you originally ordered from
Copyright
©Copyright 2019, Axis Enterprises, Inc. All rights reserved. All text, images, graphics, animation, videos, music, sounds, and other materials on this website ("site") are subject to the copyrights and other intellectual property rights of Axis Enterprises, Inc. d/b/a "Axis Promotions", its affiliated companies, its licensors, and its client. Axis Enterprises, Inc. d/b/a "Axis Promotions" either owns or has been granted permission to the copyrights in the selection, coordination, and arrangement of the materials on this site. These materials may not be copied for commercial use or distribution, nor may these materials be modified or reposted to other sites.